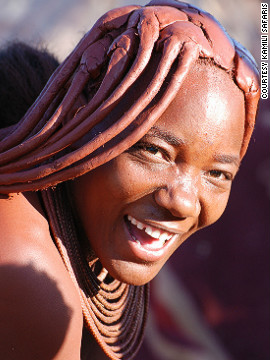 For years, an ancient tribe of semi-nomadic herders known as the Himba has drawn photographers to Namibia's barren northwest.
As a result, the striking image of the Himba -- if not their name -- has become known far beyond the remote, unforgiving Kunene region where they eke out a living tending livestock.
The reason for this is otjize, a paste of butter, fat and red ochre -- sometimes scented with aromatic resin -- that Himba women apply each morning to their skin and hair, giving them a distinctive red hue. The sight of Himba heir traditional has become an iconic image of Africa.
Read more by clicking on the link below